January Is National Radon Action Month!
Find this article at:
go.ncsu.edu/readext?768304
The Environmental Protection Agency (EPA) has designated January as National Radon Action Month. Radon is the second leading cause of lung cancer deaths in the United States, only behind smoking.
This year, the North Carolina Radon Program is giving 3,000 radon test kits free of charge. These are short-term kits but can be very helpful in determining if there is a presence of radon in your home. They will provide one test kit per household.
To get your radon kit, go to the North Carolina Radon Program.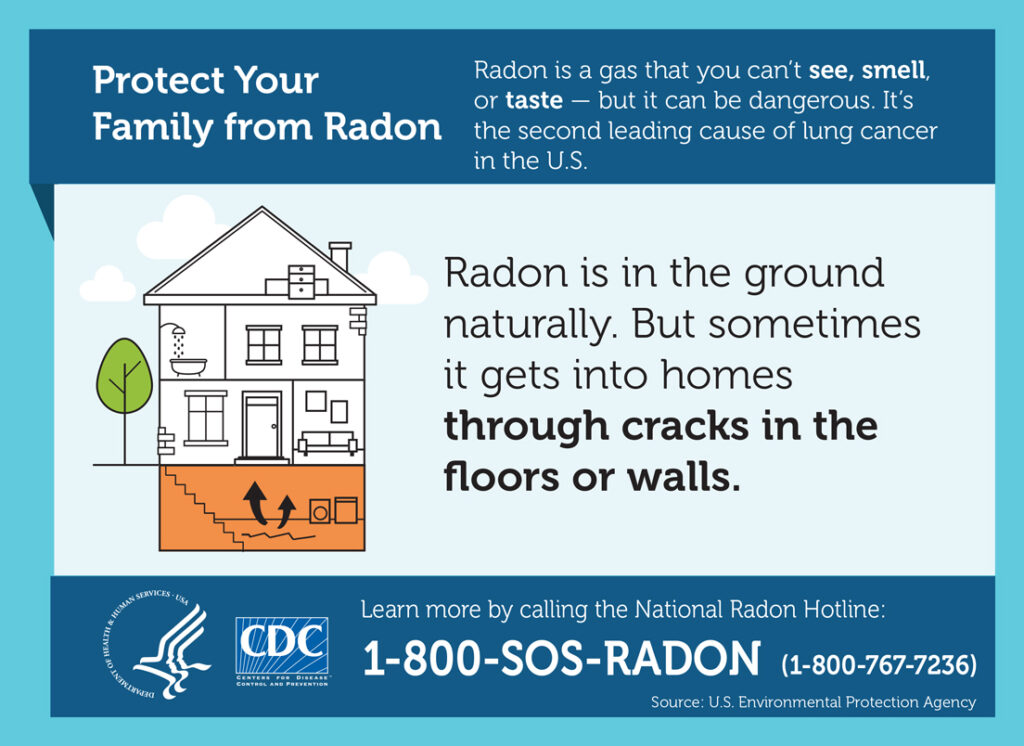 What is radon? 
It is a gas that you cannot see, smell, or taste. It comes from the decay of radioactive elements in the soil and groundwater.
How does radon cause cancer? 
Radon gas decays into radioactive particles that can get trapped in your lungs when you breathe.
How does radon get into your home? 
Radon can rise from the rocks in the ground and get into your home through cracks in the foundation. This can happen in any age or type of home. It can also be found in other types of buildings, but home is the most concerning because you spend the majority of time there.
How often do you test your home for radon? 
The EPA recommends you test your home every two years. Learn more and order your free radon testing kit (while supplies last) from the North Carolina Radon Program.
What if my home tests high for radon? High radon levels can be fixed! The EPA recommends fixing homes that have an average radon level over 4 pCi/L. A contractor who is certified and trained to fix radon problems is the best person to hire for this job. The National Radon Proficiency Program and the National Radon Safety Board certify trained contractors.
The information in this article along with more about radon and reducing radon in your home Can be found on this infographic from the North Carolina Department of Health and Human Services and several other organizations that protect North Carolinians from environmental health hazards.
Also, here are a few additional sites that you can visit for more information:
NC State Extension Healthy Homes-Radon
Environmental Protection Agency-Radon
Taneisha Armstrong, Family & Consumer Sciences Agent with North Carolina Cooperative Extension. Taneisha may be reached by phone at 252-902-1714 or by email at tsarmstr@ncsu.edu.