4-H Summer Camps 2020
Registration is now open!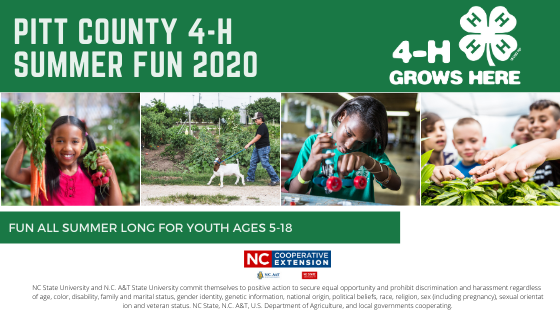 What is 4-H Summer Fun?
The mission of 4-H Summer Fun is to provide a safe, affordable, enriching environment where youth can learn and develop new skills and have fun while doing so! Students participate in field trips and other hands-on learning opportunities targeting agriculture, horticulture, leadership, citizenship, healthy living, and science, technology, engineering, & math (STEM).
How do I participate?
Enroll in 4HOnline: 4HOnline
Choose which camps, events, or activities are most interesting to you! Camp descriptions including time, location, cost, and age requirements can be found in our 4-H Summer Fun Brochure
Complete the 4-H Summer Fun Registration on Eventbrite – We are currently not accepting new Summer Fun Registrations at this time.
Policies & Procedures
Registering for 4-H Summer Fun:
All camps will be filled on a first-come, first-served basis by payment. Please select ALL camps in which you wish for your child to participate. Note that all camps have capacity limits. If the workshop is full, you may request to be added to the waitlist.
Special Notice:
All participants must be enrolled in 4-H Online to participate.
Participants should arrive no earlier than 10 minutes prior to the start time of each camp and should be picked up no later than 10 minutes after the camp is scheduled to conclude.
Pitt County 4-H Summer Fun activities operate under the 4-H Code of Conduct and Disciplinary Procedure.
Snacks and water will be provided for all activities.
Event description is subject to change.
For accommodations for persons with disabilities, contact N.C. Cooperative Extension of Pitt County at (252) 902-1709 no less than two weeks prior to the event.
If you need assistance with the online enrollment process, please contact the 4-H Office at (252) 902-1709.
Support from grants and donations allow us to provide scholarships to families who struggle to afford the opportunity for their child(ren)to participate in camp experiences.If you would like to request a scholarship, please be sure to contact the 4-H Office. Please note that we require some financial commitment from families; 100% scholarships are exceedingly rare. Available funds to support these opportunities vary year to year and program to program.
See the full list of Rules and Guidelines here: Summer Fun Rules and Guidelines
Do you have a teen who is looking for volunteer hours this summer? Check out our 2020 Teen Leadership Program. Find more information here: Teen Leadership Program
---
NC State University and N.C. A&T State University work in tandem, along with federal, state and local governments, to form a strategic partnership called N.C. Cooperative Extension, which staffs local offices in all 100 counties and with the Eastern Band of Cherokee Indians.
Read our Privacy Statement
N.C. Cooperative Extension prohibits discrimination and harassment on the basis of race, color, national origin, age, sex (including pregnancy), disability, religion, sexual orientation, gender identity, and veteran status.
Individuals with disabilities are invited to request reasonable accommodations to participate in Extension sponsored programs and events. Please contact the county Extension office offering the program at least 14 days prior to the event to make arrangements.