4-H Presentations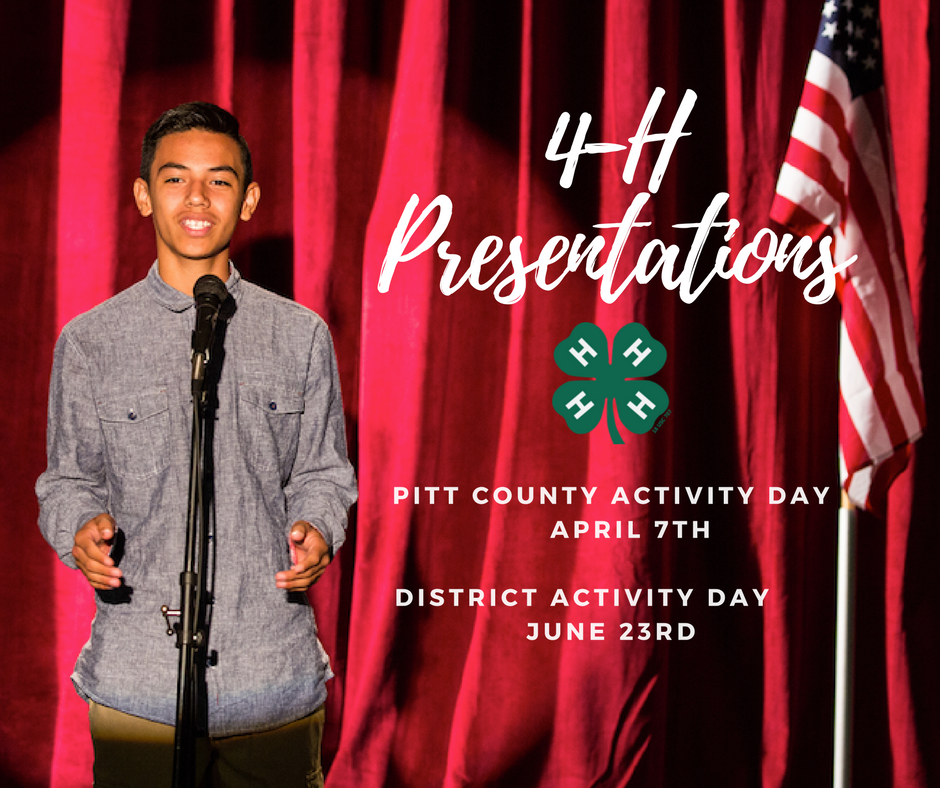 What is a 4-H presentation?
A presentation is a method used to communicate an idea by showing and/or telling. It can be a demonstration that uses posters and other visual aides or an illustrated talk that uses posters and other visual aids.
4-H Presentations help you learn to:
Research a subject

Critically think about and analyze a subject

Organize ideas in a logical order

Be a teacher and share information

Practice and develop Public speaking skills
FIRST THINGS FIRST-SELECT A TOPIC!
(Choose a topic you really enjoy!)
Your presentation can come from many different sources. Try to ask yourself, what do you love to do or what excites you? What are your hobbies, do you like to dance, draw, or work with electricity, whatever you enjoy doing and learning about can be turned into a presentation.
Basic Organization:
Introduction

Attention Getter
Who are you and why are you here?
What are you going to share with us today?

Body

What are you going to talk about….?

"Why is that information important to me?"

Summary & Conclusion

Re-tell your information and sum it up!
Be sure to ask the judges if they have any questions
Make an ending statement-connect this to your attention getter
Resources
Elements of Public speaking
Eye contact
Gestures
Language
Posture
Voice
Appearance
Visual Aids
Handling questions
Handling distractions
Visuals
Visibility: easy to read
Simplicity: message is easy to understand
Interest: attracts & holds attention
Useful: words, lettering, pictures are suitable for audiences
Structure: ideas are grouped in sequential order
Information: is factual reliable and is current
General Rules
Age eligibility is established on January 1st of the current year
Divisions are 9-10, 11-13, and 14-18
Cloverbuds (5-8 year olds) can participate but are not judged.
Presentations are recommended to be 5 to 12 minutes in length.
Each county may enter 2 presentations per age category for district.
No Live Animals
No REAL or PLAY handgun/firearms/weapons are allowed to be used during presentations

NCGS 14-269.2 Class 1 Felony
School suspension

No swords/knives/bows & arrows, etc.
Food Categories/9-10 & 11-13 Presenters in Breads, Dairy Foods, Fruit & Veg. Use, and Peanut Foods will be asked to demonstrate a mastery of preparation steps.

NOTE: each category has basic ingredient requirements

14-18 are not required to prepare a dish. Depth of knowledge is stressed

The same presentation may be repeated from one year to the next, however, the individual's personal development should show growth if the presentation is revised and improved.
Presentation Setup: the speaker is responsible for setting up all equipment for the presentation
Interruptions: the judges will determine if the participant should begin where they left off or start anew
Note cards: the speaker is allowed to use note cards but they should be used as a tool. (the speaker should keep note cards to a minimum)
Posters should be pulled from back to front.
Practice, Practice, Practice
Questions-Only Judges are allowed to ask questions

Youth may opt to repeat the question, or include the question in their answer but this is NOT required
You have given an acceptable response when you admit you are unable to answer the question.
Here is a format to help develop your presentation: Planning-Sheet-for-youth
Please use this link to register for County Activity Day: http://:http://doodle.com/poll/b6cim38s8gydneve
Original article provided by Summer Young, Wayne County CES :  https://wayne.ces.ncsu.edu/?page_id=155888
Was the information on this page helpful?
This page can also be accessed from:
go.ncsu.edu/readext?457423