How Do I Winterize My Yard Equipment?
Find this article at:
go.ncsu.edu/readext?388231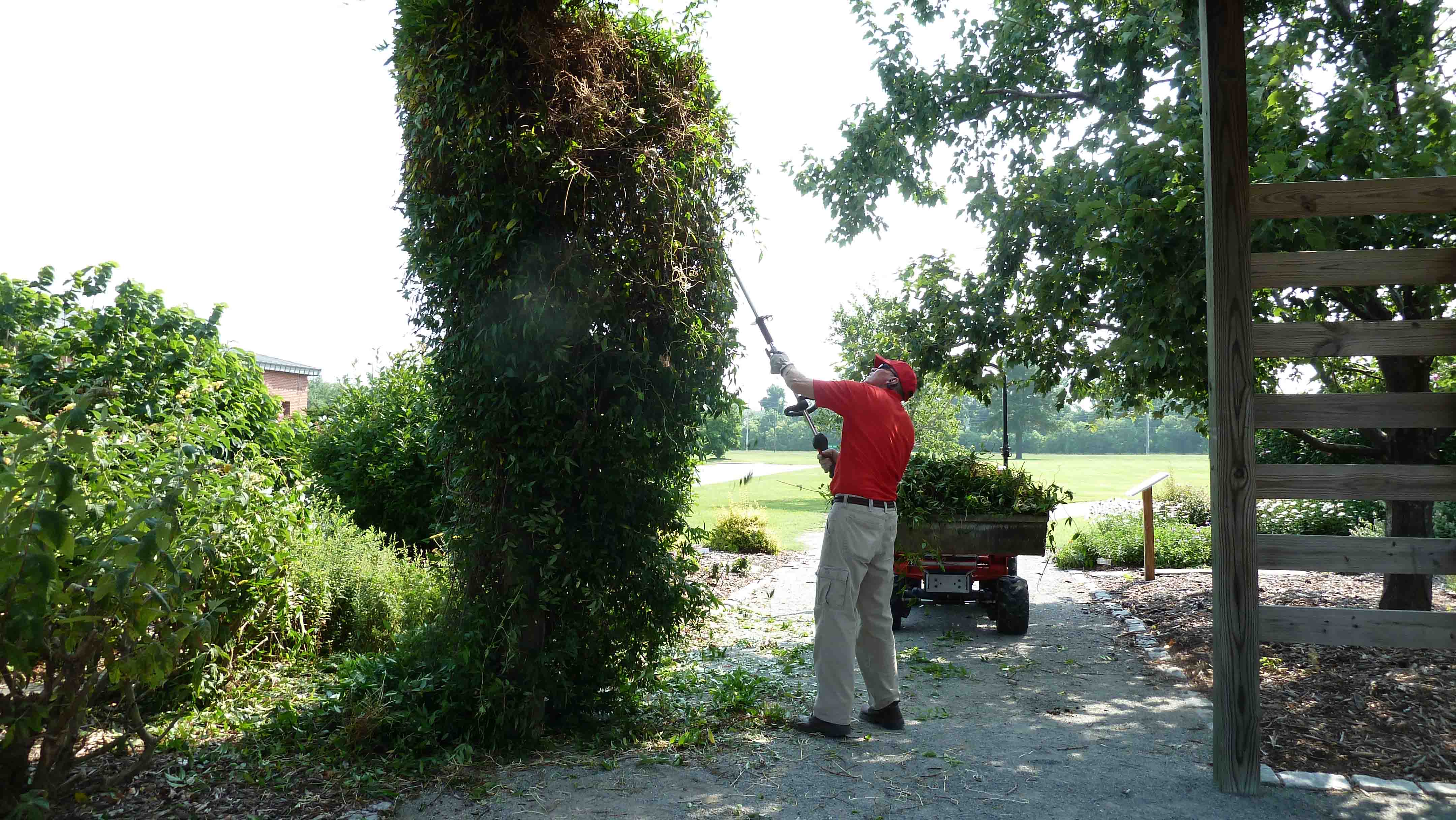 Since it has finally started to feel like winter, it is time to protect those important pieces of equipment we use to maintain your yards. For home gardeners, most of our lawn equipment will just sit for the next three months. With all the rain we had this week your yard might be too wet to want to get out and do much work in it. You can spend that time winterizing gasoline equipment such as lawn mowers, blowers, string trimmers, and chain saws if they will not be used regularly. Winterizing will help extend the life of your small gasoline engines.
To winterize your small gasoline engines there are two different approaches you can take. Check the owner's manual for information on draining the fuel system for off-season storage. If recommended for your specific model, draining the tank will reduce fuel evaporation that occurs during storage.
If the owner's manual says the gasoline can be removed and it can be done easily, the gasoline should be carefully drained from the tank and collected in a clean, approved storage container. The collected gasoline can be used in your car. Any remaining gasoline in the system can be removed by operating the engine until it stops. Also take time and make the extra effort to add a small amount of oil through the spark plug port to help winterize engines.
If the gasoline cannot be easily removed, a gasoline stabilizer should be added to the fuel in the tank. Make sure to follow the instructions for the amount of stabilizer. To minimize air space in the engine's fuel tank, fill the tank full with the gasoline/stabilizer mixture. The engine should be operated for a few minutes to draw the stabilized gasoline into the fuel lines and carburetor. You can also add an effective vapor barrier by placing a piece of aluminum foil over the tank cap and then securing the foil with tape. For added protection you may want to consider taking the time to close the engine's valves. For engines with hand-pull starters do this by pulling the cord until resistance is felt.
Whichever approach is taken, you should also store your motorized equipment in a cool, dry place that is well ventilated and out of direct sunlight. While you are at it, now is a good time to replace or sharpen mower blades and edger blades. While winterizing it is also a good time to replace spark plugs in all your equipment so you have no starting problems from a fouled spark plug next spring. Also go ahead and clean or replace air filters.
Winterizing is important because gasoline left in an engine's fuel tank and carburetor can degrade over time. During storage, gasoline can interact with air and moisture to form gums and deposits. Therefore you should not store untreated gasoline in the engine's fuel tank for any inactive periods longer than one to two months. If you don't feel comfortable handling winterizing your equipment, take it to a local small engine service shop.
Once power tools are taken care of, make sure to give some attention to the important human powered tools we often use in the yard. Make sure to drain water hoses. I drain and store my longest garden hoses on hose reels in the garage or garden shed for the winter. I leave a short hose connected to one faucet for occasional use in the winter. I make sure to drain the water from this hose after every use.
Hand tools like shovels, rakes, hoes, and pruners should not be overlooked. Sharpen all tools that need it and make sure to use a wire brush to remove any soil clinging to them. Before storing, wipe down metal parts with a little utility oil. Wooden handles can be wiped down with linseed oil to prevent cracking and splintering. If handles have cracked or splintered then sand them before this step.
Taking care of tools is an important part of making your next landscaping or gardening job fun and easy. Good luck! Make sure to get those pruning tools sharpened and ready because pruning season is here. If you have home landscaping, gardening, lawn, or tree related questions call the N.C. Cooperative Extension Master Gardener Volunteers in Pitt County at 902-1705 (leave a message anytime) or email pittcomgv@hotmail.com. If you need more local gardening information you can find it online at http://pitt.ces.ncsu.edu.