When Do I Plant Spring Flowering Bulbs?
Find this article at:
go.ncsu.edu/readext?380930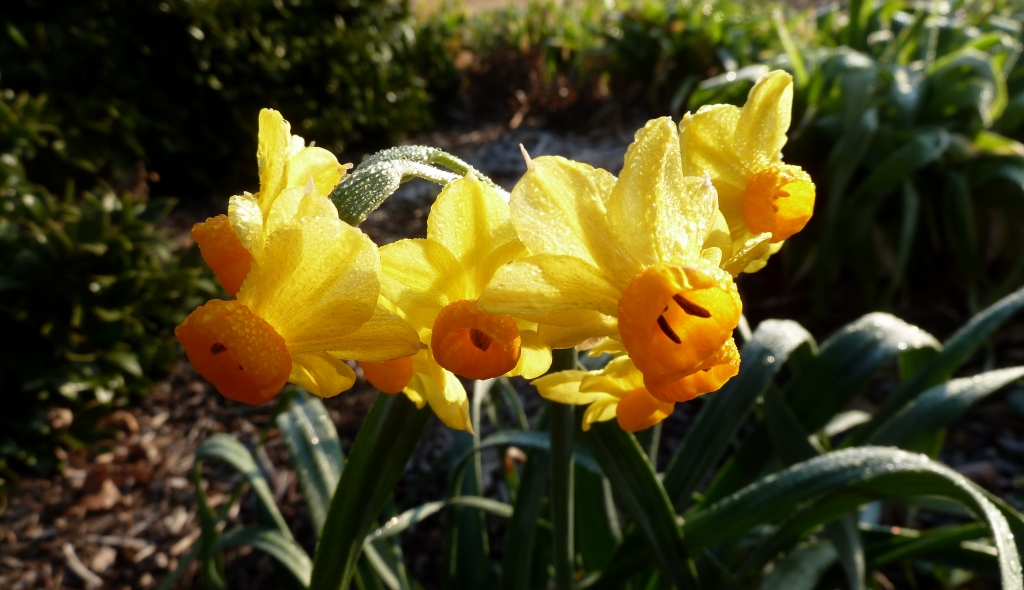 Fall planted spring flowering bulbs are some of the toughest plants around. They have stored energy in the bulb to produce the root system, then foliage, and flowers for the spring. With the right site selection, planting, fertility, and a little water to get them started at planting, they will not disappoint in the spring.
The major bulbs planted in fall for spring color are tulips, hyacinths, and daffodils. Remember that most tulips (excluding the species tulips) give a grand show the first year, but may not flower again. If they do the show is not dramatic. Many gardeners choose to treat hybrid tulips as annuals in the garden or plant species tulips that flower repeatedly. Spring bulb flowering season is from mid February to mid May, depending on local weather conditions. Height ranges from 6 inches to 3 feet. Colors vary widely.
Specialty bulbs planted include allium, camassia, chionodoxa, crocus, galanthus, fritillaria, and scillas. Their flowering season is from mid February to early July. Height ranges from 3 inches to 4 feet. Colors vary depending on species. This is just the tip of the iceberg, or bulb I should say. Looking through some bulb catalogues and online you will find numerous choices of fall planted bulbs. Some examples are anemone, arum, babiana, iris, cyclamen, galanthus, ipheon, ixia, ixiolirion, leucojum, peony, ranunculus, squill, and windflower. Wow! I don't even know what all of these are without looking up information about them.
The best time to purchase spring flowering bulbs is in the fall. Purchasing should be done based on bulb firmness. The size and number of flowers is directly related to the bulb size. Small nicks and loose skin do not affect bulb development. Bulbs should be stored in a cool place (50 to 65 degrees) before planting.
Good drainage is important for spring flowering bulbs. In poorly drained areas it may be necessary to plant on a raised bed. In extremely sandy soils, organic amendments are often needed to increase water and nutrient holding capacity. Soil pH is also important when dealing with bulbs. Soil pH in the planting area should be between 6 and 7. Remember to soil test before planting and every 2 to 3 years.
Spring flowering bulbs can be used in beds, borders, for ground covers, rock gardens, and wooded areas. Most of the spring flowering bulbs do best in areas that receive full sun to partial shade. In eastern North Carolina, November to early December is the best time to plant spring flowering bulbs. Planting this time of year allows the bulbs to form strong root systems and satisfy cold requirements.
Small bulbs (1 inch in height) should be planted five inches deep. Large bulbs (2 or more inches) should be planted eight inches deep. These planting depths protect the bulbs from frost, animals, and physical damage. Unlike planting shrubs or trees, the area under the bulbs should be loosened. Large bulbs should be 3 to 6 inches apart and small bulbs 1 to 2 inches apart. Dig, till, or loosen the soil to a depth of 8 to 10 inches. One of the best ways to do this is loosen the top 4 to 6 inches of soil then turn in 4 inches of compost or finely ground pine bark soil conditioner. Next you should plant at the recommended depth and water in. Cover the bed with 2 to 3 inches of mulch. Water as needed if it is dry after planting. With cool temperatures, watering should only be needed every two to three weeks without rainfall.
What about fertilizer? Newly planted bulbs have better quality than older bulbs. Fertilization will encourage bulbs to flower for several years before replacing or dividing. There are two ways to fertilize spring flowering bulbs. The first system uses a slow release fertilizer like 12-4-8, 12-6-6, or 16-4-8 with a single application in the fall. Use one tablespoon per square foot. The second system uses bone meal in the fall and either 12-4-8, 12-6-6, or 16-4-8 (one tablespoon per square foot) applied when the new foliage emerges from the ground.
After flower petals fade in the spring, remove flowers with scissors or snips. Foliage should be allowed to die naturally. To liven up the area after bulbs fade, plant the area with summer annuals. Another way to mask the fading foliage of spring bulbs is to interplant with daylilies. After the bulbs have bloomed, daylilies begin to grow their lush green, grass-like foliage that masks the tattered looking bulb foliage. This would work with any fast growing spring emerging perennial.
For more information on selecting or planting spring flowering bulbs call the Pitt County Extension Master Gardener Volunteers at 252-902-1705, or email them at pittcomgv@hotmail.com. You can find more gardening information at http://pitt.ces.ncsu.edu including links to our blog and social media pages.