Velvet Sage
When most people think of herbaceous perennials, plants with a non-woody or semi-woody stem that die back to the ground each year, they think of plants that provide color during spring and summer. Many perennial borders look tired and spent by summers end. However, there are some good perennials out there to provide color late in the growing season.
My favorite fall blooming perennial is velvet sage, Salvia leucantha. I have always known it as Mexican bush sage. Like other salvias it has a square stem, sage like leaves that are textured, and lance-shaped. The growth habit of this tough perennial is upright and rounded. It grows to a height of 4 feet tall and 4 feet wide. It blooms in the fall with flowers that are purple and white. There is a cultivar called All Purple that has purple and magenta two-toned flowers.
Velvet sage should be planted in well-drained soil. It is usually slow to get started in the spring so mark the plant location well and give it time to make its appearance. If planted where drainage is poor it will not survive the winter.
Another requirement is full sun. Plant velvet sage where it will get at least 6 hours of sun a day. Shade will make it weak, thin, open, have fewer blooms, and it may flop over.
Velvet sage is an excellent companion plant to goldenrod that is blooming now. Don't worry about sneezing with goldenrod. It is blamed for allergy problems, but ragweed that blooms around the same time is the cause of these problems. A great combination would be to plant velvet sage next to the arching sprays of yellow goldenrod like the cultivar Fireworks. To take this combination over the top add an ornamental grass for a perfect pairing.
If you don't have a border large enough to hold velvet sage, there is a cultivar called Santa Barbara. It is smaller at a height and width of 24 to 30 inches. It could be teamed with the smaller Golden Fleece goldenrod and a small ornamental grass like dwarf fountain grass (Hameln) or black flowering fountain grass (Moundry).
Velvet sage is a perennial that requires almost no care. I have three of these plants in my garden. They get fertilized in the spring with 16-4-8 and I cut them back close to the ground in spring when I first see shoots at the base (mid March to mid April). I do nothing else to them all year.
I have never tried dividing this plant but spring would be the time to do it. Divide as soon as new shoots begin to emerge for the year and keep them watered well. It may be tough to divide since they are a woody. A small hand pruning saw or axe may come in handy. I used this technique a few years ago on some baptisia that in theory do not divide well and it worked great. I even did it later than I should have. The plants were about a foot tall and blooming when divided. The plants did wilt but survived.
If you want to produce many more plants on your own, softwood cuttings can be rooted during the summer. As the name indicates softwood cuttings are still soft and flexible and have not hardened yet. Cuttings about 3 inches long with a couple of leaves should be rooted in a well-drained potting mix that has plenty of perlite for good drainage. Rooting hormone always helps. Keep in a partially shaded area while rooting and keep moist. If you don't have a cold frame or greenhouse your can make your own miniature rooting environment very easily. Place the containers with cuttings inside a clear plastic bag after watering. Condensation will form to help keep the cuttings moist, but make sure to keep this setup in a shaded area to prevent excess heat.
If you would like to see velvet sage in bloom it has begun flowering in the herb garden at the Pitt County Arboretum. The Pitt County Arboretum is located on the grounds of the Pitt County Agricultural Center at 403 Government Circle in Greenville. A great time to visit is during our special Sunday tour on September 23rd at 4 pm. This is a great opportunity for those who can't make it to our 1st Thursday of the month tours that start at 10 am.
If you need to learn more about gardening in Pitt County, give the Extension Master Gardener Volunteers a call at 902-1705 or email pittcomgv@hotmail.com. You can find more local gardening information on the web at //pitt.ces.ncsu.edu including links to our social media pages found in the spotlight box. Good gardening!
Danny Lauderdale, Extension Agent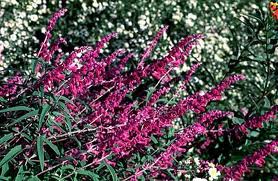 Was the information on this page helpful?
Care to tell us why? Send Explanation
This page can also be accessed from:
go.ncsu.edu/readext?179320