Pansies for Winter Color
Bedding plants continue to remain popular even though most have to be replaced every season.  Color beds can improve the aesthetics of a landscape as well as draw attention to a particular area such as an entrance.  One of the few annuals that can survive the cool temperatures of late winter and early spring is the pansy.  These annuals really brighten up winter landscapes with their purple, white, blue, dark red, rose, sienna, apricot, orange, purple, brown, or yellow flowers.
It is often forgotten that pansies can be planted in mid September to mid October in order to take advantage of the color for a few extra months.  Since pansies are cold tolerant, their roots will be growing during the warmer days of the winter in order to be ready for a fabulous display in the spring. You will also enjoy plenty of blooms beginning shortly after planting. On the other hand, some of the hybrid pansies developed lately are heat tolerant enough to bloom in June.  By planting a heat tolerant variety in fall you can really stretch your dollar.  Prepare pansy beds now and start planting. October is just a few days away.
Before selecting pansies, it is important to analyze your planting site.  Pansies like sun to partial shade, and cool, moist, well-drained soil. If a site receives more than 3 hours of unfiltered mid-day sun, it should be treated as a full sun site.  Partial shade defines a site that receives unfiltered morning sun, but shade during the afternoon or moderate shading throughout the day.  Sites that are heavily shaded receive little mid-day light and less than 60% of the sun's intensity the rest of the day.
Soil preparation usually starts with a soil test.  Soil sampling kits are available in county offices of North Carolina Cooperative Extension throughout the state.  Soil sampling should actually be done following soil amendment.  If soils have a large percentage of clay or sand, you may need to add organic material such as finely ground pine bark (<1/2 inch in diameter) or compost.   About 2 inches of organic material should be worked into the top 6 inches of native soil.  In clay soils, drainage is improved, while water holding capacity is improved in sandy soils.  Remember that the entire planting bed should be amended to ensure uniformity.  Good drainage is important when growing pansies to prevent diseases that may girdle the stems or young transplants. Good drainage will help prevent black root rot disease of pansies as well.
Gardeners can also prevent stem and root diseases by planting properly. Make sure to plant the pansy transplants no deeper than the top of the root ball.
Fertilization is an important management step that should not be overlooked.  Follow soil test recommendation or use fertilizers marketed for use on bedding plants.  These include water soluble granular and liquid feeds as well as slow release products.  Water-soluble granular fertilizers should be applied every 4-8 weeks throughout the bedding plant season.  Liquid feeds should be applied every 1 to 4 weeks according to label instructions.  Slow release fertilizers should be divided into two applications.  The first should be incorporated into the bed just before planting and the second should be broadcast over the bed midway through the growing season.  I like to use 12-4-8, 12-6-6, 16-4-8, or 18-6-12 fertilizers. Always read and follow fertilizer label instructions.
Mulch is also important in bedding plants for retaining moisture, suppressing weed growth, keeping soil from splattering on plants, and improving aesthetics.  About 2 inches of organic mulch between bedding plants is adequate.  Around the plant stems, don't apply more than 1/2 inch to prevent disease problems.  Plant spacing can vary depending on the effect desired.  Usually spacing ranges from 4 to 12 inches.  Other maintenance aspects to consider are dead heading and pruning.  Pansy flowers should be removed as they fade for continued bloom.
With a little care including bed preparation, plant selection, proper planting, fertilization, watering, and mulching, pansies can be enjoyed fall, winter, and spring.  To find out what types have performed best in North Carolina, search the Internet for JC Raulston Arboretum Annual Trial. For more information on this or other gardening topics in Pitt County, call the Extension Master Gardener Volunteers at 902-1705 or email pittcomgv@hotmail.com.  To find out more about NC Cooperative Extension in Pitt County and local gardening information visit //pitt.ces.ncsu.edu. If you want to see other types of fall color or get suggestions on what to grow in your yard, come out to the Pitt County Arboretum located at 403 Government Circle, Greenville, NC 27834 tomorrow, September 23 at 4pm for a guided tour led by Extension Master Gardener Volunteers.
Danny Lauderdale, Extension Agent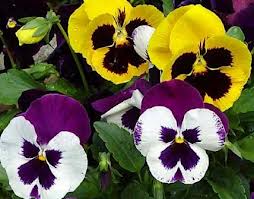 Was the information on this page helpful?
Care to tell us why? Send Explanation
This page can also be accessed from:
go.ncsu.edu/readext?179324